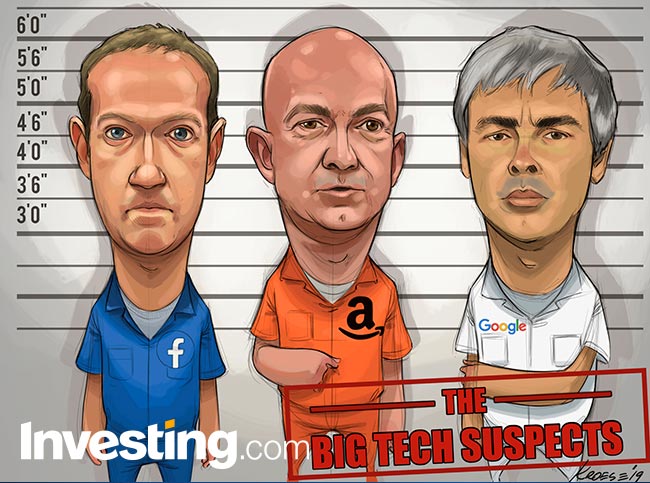 By Jesse Cohen
Investing.com – The U.S. second-quarter earnings season shifts into high gear this week, with more than a quarter of the S&P 500 companies set to report their latest results in the coming days.
See Jesse Cohen's other Tweets
While blue chips like Boeing (NYSE:BA), McDonald's (NYSE:MCD), and United Technologies (NYSE:UTX) are among the more than 130 companies reporting, most of the focus will fall on tech heavyweights such as Facebook (NASDAQ:FB), Amazon (NASDAQ:AMZN), and Google-parent Alphabet (NASDAQ:GOOGL).
The three FANG names have been under scrutiny lately amid all the talk of antitrust charges, government regulation and cryptocurrency plans.
Facebook (NASDAQ:FB), which has surged 54% this year, is set to report its latest results after Wednesday's closing bell. The social media company is expected by analysts to post a profit of $1.87 per share on sales of about $16.5 billion, according to forecasts compiled by Investing.com.
Amazon (NASDAQ:AMZN) meanwhile is set to release its latest results on Thursday after the closing bell. The retail giant, which has seen shares gain 32% this year, is expected to earn $5.56 per share on revenue of $62.47 billion.
Joining Amazon (NASDAQ:AMZN) in report earnings after Thursday's closing bell will be Google-parent Alphabet (NASDAQ:GOOGL), which is projected to report earningsper share of $11.10. according to forecasts compiled by Investing.com. Revenue is forecast to total $38.16 billion. Shares are up just 9% this year.
The Trump administration's trifecta of antitrust investigations of Silicon Valley tech giants triggered a mass selloff of FANG stocks in early June.
Facebook got hammered amid revelations that the Federal Trade Commission launched an antitrust probe to determine if it engages in monopolistic practices, while Google dropped after news broke that the U.S. Justice Department is preparing an antitrust investigation of it.
Amazon is the other tech giant under scrutiny, which could face a broad FTC probe as well as heightened pressure from Europe.
To see more of Investing.com's weekly comics, visit: http://www.investing.com/analysis/comics
— Reuters contributed to this report