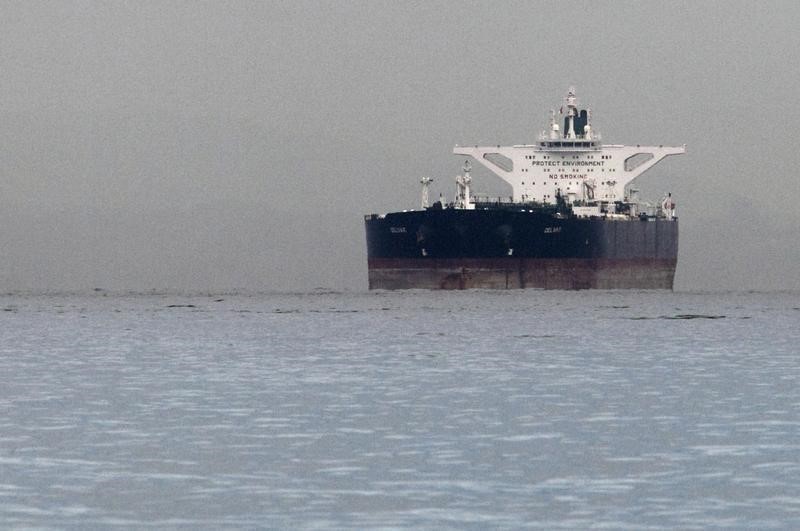 Investing.com – Oil prices traded sharply higher on Monday as tensions mounted between the U.K. and Iran, increasing fears of a disruption to oil supplies coming out of the Persian Gulf.
New York-traded West Texas Intermediate crude futures rose 75 cents, or 1.4%, to $56.38 a barrel by 7:51 AM ET (11:51 GMT), although that was some way off an earlier high of $57.02, while Brent crude futures, the benchmark for oil prices outside the U.S., gained 80 cents, or 1.3%, to $63.27, having similarly retreated from a high of $64.02.
U.K. Prime Minister Theresa May was set to hold an emergency meeting on Monday to discuss with British ministers the appropriate action to take to maintain the security of shipping in the Strait of Hormuz, the bottleneck for the shipping of about one-fifth of world's oil.
That comes after a British-flagged tanker was seized by Iran in the Persian Gulf last Friday and is the latest development in heightened tensions in the region, particularly between Washington and Tehran.
The U.S. accused Iran of being behind two tanker attacks in the region since May and threatened on Friday to down any Iranian drones that fly too close to its ships.
Washington and Tehran have been at odds since U.S. President Donald Trump decided to withdraw from a nuclear accord with Iran and reinstate economic sanctions.
Investing.com senior commodity analyst Barani Krishnan said that it was in Trump's best interest to work out a new deal, as it could add around 2 million barrels per day in output and reduce oil prices.
"Yet, despite their best intentions, there are no immediate signs that the two sides will agree to anything at all, with Iran demanding that Washington stand down all sanctions against it for negotiations to start, and the Trump administration saying there should be no pre-conditions for the talks," he said.
In another short-lived supply disruption, Libya's National Oil Corporation had declared a state of force majeure on Sharara crude oil loadings at a Zawiya port late Friday that shut down production of 290,000 barrels.
NOC however lifted the force majeure on Monday with output resuming at half capacity, pulling crude prices back from intraday highs.
In other energy trading, gasoline futures advanced 0.2% to $1.84.35 a gallon by 7:54 AM ET (11:54 GMT), while heating oil gained 1.1% to $1.9102 a gallon.
Lastly, natural gas futures traded up 1.3% to $2.280 per million British thermal unit.
— Reuters contributed to this report.